Sound Quartet is expanding the field of chamber music with electroacoustic research, composition and performance. The ensemble is project oriented with each concert as an opportunity to explore possibilities beyond the already confirmed. Sound Quartet is everchanging but still with both new and old faces in a joint search for an exquisite musical flow within mesmerizing soundworlds.
The ensemble was established in the nineties out of experimental research at Elektronmusikstudion (EMS) Sweden and Musiqes Inventive d'Annecy France. Since 2007 Stockholm Sweden is the home for Sound Quartet with Thomas Bjelkeborn as main initiator and artistic organizer. Thomas Bjelkeborn is also involved in research to develop the music of Sound Quartet at Sound and Physical Interaction research group (SOPI) at Alto University in Helsinki.
Sound Quartet international tours 2014, 2015 and 2016 was subsidized by Swedish Arts Council. In 2017 three of the Sound Quartet concert productions at Fylkingen was subsidized by City of Stockholm Culture.
Below you'll find whats on during 2018.
_ musicians
International:
Martina Claussen voice/live-electronics, Vienna Austria
Josep Lluís Galiana saxophones, Valencia Spain
Emilie Girard-Charest cello, Montreal Canada
Emma Lloyd violin/electronics, Edinburgh Scotland
Koray Tahiroglu live-electronics, Helsinki Finland
From Sweden:
Thomas Bjelkeborn realtimeEAM/live-electronics/live-visuals
Ida Lundén synthesiser/electronics
Lise-lotte Norelius percussion/live-electronics
Paul Pignon reeds/flutes/didgeridoo
Lisa Ullén piano
_ concerts
Thomas Bjelkeborn is curating the Fridays PUSH concert series at Fylkingen Stockholm with Sound Quartet as resident ensemble.
23 mar Martina Claussen with Bjelkeborn, Lundén & Pignon
04 may Josep Lluís Galiana with Bjelkeborn, Norelius & Ullén
23 aug Koray Tahiroglu with Bjelkeborn & Lundén
19 oct Girard-Charest with Bjelkeborn, Lloyd & Tahiroglu
16 nov musicians TBA
_ artistic development
Porting Self is an artistic project run by Thomas Bjelkeborn focused on development of new music for acoustic instruments aided by realtime synthesis instruments including musically subordinate realtime visuals. Important parts of the artistic development is done at SOPI Alto University Helsinki in cooperation with Koray Tahiroglu. Porting self is supported by Swedish Performing Arts Agency, Helge Ax:sons Johnsons foundation and Nordic Culture Point.
_ musicians in previous concerts
International musicians Nadia Ratsimandrecy (fr), Blanca Regina (es), Viv Corringham (us), Philippe Moenne-Loccoz (fr), Joachim Spieth (es), Jukka Kääriäinen (fi), Matt Scott (uk), Andrew Woodhead (uk), Jess Aslan (uk), Edith Alonso (es), Julian Bonequi (mx) and Anthony Maubert (fr). And from Sweden Hara Alonso, Catharina Backman, Erik Carlsson, Nina de Heney, Alexandra Nilsson, Johan Sundberg and Olle Åberg. The following have appeared as visual artists: Raquel Meyers (es), Blanca Regina (es), Viktor Zeidner and Michael Larsson. Projects with dancer/choreografer Liisa Pentii (fi).
_ about the musicians (click on the name for info)
Thomas Bjelkeborn, sound artist, electronic musician and electroacoustic composer living in Sweden. He is known in contemporary music circles since 1988, primarily established as EAM composer for international festivals, often in the context of residencies at prominent music institutions. In his work, he investigates the relationship between traditional acoustic instruments and its electronic extensions, where new physical-digital instruments often are combined with advanced audiovisuals to explore music beyond known horizons. He is curating regular concerts at Fylkingen Stockholm and have curated new music festivals in Sweden since 1990. He has performed compositions and electroacoustic music on all continents and tours frequently in Europe with the live electronic ensembles BOP and Sound Quartet.
Martina Claussen Vienna Austria
Josep Lluís Galiana Valencia Spain
Emilie Girard-Charest Montreal Canada
Emma Lloyd Edinburgh UK
Ida Lundén Stockholm Sweden
Philippe Moenne-Loccoz Bourgoin-Jallieu France
Lise-lotte Norelius Stockholm Sweden
Paul Pignon has been playing and composing music of almost every kind for nearly 60 years, he has a physics degree and is a pioneer in EAM. His first foray into non-idiomatic improvisation was in Oxford 1962. He has lived about equally in the UK, Yugoslavia and Sweden.
Koray Tahiroglu is an internationally known electronic musician and research fellow in the Department of Media, Aalto University, Helsinki. He is leading the Sound and Physical Interaction research group, coordinating several projects including embodied approaches to sonic interaction, participative music experience, multimodal physicality in sound and interaction. This year he was awarded a 5-year Academy of Finland Research Fellowship.
Sound and Physical Interaction research group Alto University Helsinki, to be updated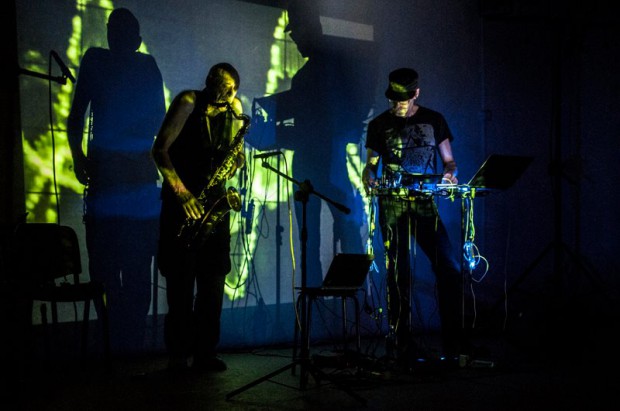 Picture of SQ at Audio Art Festival 2014. In the past Sound Quartet sometimes toured as a trio with a duo setting on stage extended with visuals.