SQ (aka Sound Quartet) imaginary soundscapes, electronic experimentalism, composed impro art of electrified sounds and images, an ever changing gathering of electronic/acoustic musicians and visual artists. The main ensemble is Thomas Bjelkeborn(SE), Philippe Moenne-Loccoz(FR), Paul Pignon(SE) and Viktor Zeidner(SE). SQ is currently involved in music projects with Nadia Ratsimandrecy(FR), Emilie Girard-Charest(C) and Alexandra Nilsson(SE), danceproject with Liisa Pentii(FI) and experimental research at SOPI Helsingfors with Koray Tahiroglu(T).
SQ often tour as a trio with a duo setting on stage extended with visuals:
Thomas Bjelkeborn is a sound artist, electronic musician and acousmatic composer from Sweden. He is also a curator for the PUSH festival and Lamour in Gävle and Fylkingen/Lamour Stockholm. He has performed at electroacoustic and electronic festivals on all continents.
Paul Pignon has been playing and composing music of almost every kind for nearly 60 years, he has a physics degree and is a pioneer in EAM. His first foray into non-idiomatic improvisation was in Oxford 1962. He has lived about equally in the UK, Yugoslavia and Sweden.
In this setting SQ is frequently extended to a trio with Viktor Zeidner on analog visuals.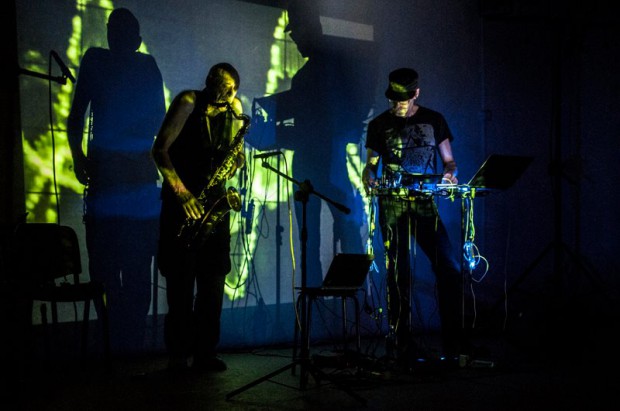 The following composers and musicians have collaborated with SQ for new music and concerts: Viv Corringham(US), Blanca Regina(ES), Andrew Woodhead(UK), Emma Lloyd(UK), Jess Aslan(UK), Lisa Ullén, Frøya Dahlø(NO), Josep Lluise Galiana(ES), Johan Sundberg(SE), Olle Åberg(SE), Edith Alonso(ES), Julian Bonequi(MX), Nina de Heney(SE), Gregorio Jimenez(ES), Anthony Maubert(FR), Mark Pilkington(UK) and Per Ålund(SE). The following have appeared as guest visual artists: Blanca Regina(ES) and Michael Larsson(SE). The first initiative for SQ was in 1992 by Thomas Bjelkeborn and Philippe Moenne-Loccoz out of experimental research at EMS Stockholm and MIA Annecy.